Post by Windischer on Jun 8, 2020 9:48:38 GMT -5
Life in the second half of the 19th century was very hard for many people in Austria-Hungary and the Slovene Lands were no exception. Especially after the abolition of feudalism in the 1860s, many peasents faced financial ruin and debt. That is when emigration to America, Canada and industrial centers of Western Europe started. However, it is also the time when the Suez Canal was built, which established Egypt as an important place for trade and thus offered many new job opportunities. That is how the
aleksandrinke
came to be.
Aleksdandrinka
or
lešandrinka
is the name for a Slovene woman, who left home to find work in Egypt, mostly in Alexandria. There they worked as nannies, maids, cooks, governesses or wet nurses for rich Arab and foreign families. They money they earned helped support their families at home, where a lot of them had husbands and children waiting for them. In Egypt they became known as
les Slovenes
or
les Goriciens
, because most of them came from the villages around Gorica (today's border region between Slovenia and Italy), but some even came from the lower Gailtal/Zilja valley in what is today Austria. Through the port of Trieste they would travel by ship to Egypt, where they soon established their own net of connections, which helped more and more women find work, especially because they became known as good and hard workers. Their husbands back at home would struggle to get any sort of job and farming alone wasn't enough to survive. Meanwhile these women would earn at least four times as much in Egypt as they would for comparable work in Gorica or Trieste.
Les Goriciens weren't the only Slovenes in Egypt at the time, another Slovene-Friulian personality was the architect Anton Laščak, whose architecture in Alexandria and Kairo even got him promoted to a beg. His most famous buildings include the
Suarez Palace, Club Lotus, St. Peter and St. Paul's Church and the Tahra Palace.
Yet the aleksandrinke still formed the bulk of Slovenes in Egypt and they became quite well organised. At the end of the 19th century they established the association
Sloga
, which was later renamed to
Slovenska palma on Nilu
(Slovene Palm on the Nile). Within this organisation they established the
Azil Franja Josipa
(Franz Joseph Asylum) in 1908, which took care of unemployed Slovene women. In that same time they also established religious organisations in Alexandria and Cairo, the
School Sisters of St Francis of Christ the King
and
St Cyril and Methodius Society
. These provided a Slovene school, nursery, library and Slovene masses, for which a sister from Solkan even provided a copy of the painting of the Virgin Mary from Sveta Gora. The sisters also grew the Solkan variety of chicory salad in their gardens to provide a piece of home for the aleksandrinke. They would also socialise with each other when they brought the children they cared for to the parks and on sundays, when they had the afternoons off.




I can't help but notice the similarity between les Goriciens and Lepa Vida, a very old balad about a woman called Vida, the origin of which goes as far as the 9th century, when Moors raided the Adriatic coast. Here is a 1921 English translation of France Prešeren's version from 1832, because I can't find a translation of the original folk balad.

Fair Vida standing; by the sea
Was plashing linen in the water .
When sailor black from far-off land
His barque did stay and wave his hand
To pretty Vida, calling thus:
"Why Vida, not so bonnie now?
Why no longer blooming thou?
Why no more the maid of yore?"

Pretty Vida answered then:
"How can I blooming be and bonnie
When weary days have fallen on me!
Oh! my child lies sick at home:
I have followed foolish counsel,
And now am wive to husband old!
Oh! luckless me! I'm rarely gay,
My sick babe cries the livelong day,
The whole nights trough the old man coughs!"

The seaman dark then made reply:
"As the cranes who find times bad,
Spread their wings and fly o'er sea,
So fly thou away with me.
Come thou! heal thy wounds of heart!

Fair Vida — news! I've message for thee:
For thee the Queen of Spain hath sent.
That thou mayest tend her son, the prince,
Be nurse to tiny emperor!
Rock his cradle, note his choice,
Guard him well, prepare his bed,
Sing him songs in sweet low voice,
That he may into sleep he led —
No harder task awaits thee there!"

Herself into his hands she gave,
But when they drew away from shore,
And their frail craft tossed on the wave,
Then Vida spoke amid her tears:
"Alas, my child! What have I done!
Who will at home care for my son,
My babe, my boy, my weakly child,
My husband tooborne down with years!"

Se'nnights three had passed away:
The black man brought her to the Queen.
Fair Vida early leaves her bed,
And from her casement waits the sun,
That she may ease her gnawing grief,
Speaks to him thus to find relief:
"Sun, radiant Sun! oh, tell me thou,
How fares my babe, my ailling child?"
— "What thinkest thou, the poor babe — say!
They lit his death light yesterday;
The old man, too, has gone from home,
Far on the sea he seeks for thee,
And weeps for thee without relief,
His heart, it breaketh with his grief!"

And when at eve the pale moon rose,
Fair Vida at the casement stood,
To cool hot tears — if so she could!
The silver moon she spoke to thus:
"Oh, say; bright moon, thou silver moon,
How fareth he, my poor, sick child?
— "How should he fare?" the pale moon smiled,
"То-day, poor babe, they buried him.
Thy father, he hath gone from home,
Far on the sea he seeketh thee,
And weeps for the without relief,
His heart, it breaketh with his grief." —

More bitter pretty Vida cries;
With kindly questions comes the Queen:
"What ails thee, Vida? What befalls?
Why all these sobs, these heartwrung tears?"
Pretty Vida tells the Qeen:
"Oh, woe is me! I can but cry:
I held at window golden vase,
As I did wash it, down it fell,
From casement high Io! it did fall —
That vase of gold to bottom of the sea!"

With comfort much, the Queen she said:
"Oh, weep no more with reddened eye;
Another golden vase I'll buy,
And I'll excuse thee to the King;
Go now to nurse the prince, my boy,
In place of tears, thou shalt find joy."

In truth the Queen the new Vase bought,
And made excuse unto the King;
Yet still at window Vida stood,
From day to day she stood and thought.
And mourn'd for father, husband, son.


Many variations of the folk balad don't have a good ending and it certainly wasn't easy for les Goriciens either. They usually stayed in Egypt for years, sometimes decades or even their whole lives. Some of them did several tours to Egypt and every time the return was harder. The long absence took a toll on family ties and the unmarried aleksandrinke often didn't return home at all. Often they would find love in Egypt and marry into a wealthy family. At the start of ww2 there were 7000 of them in Egypt. Their homeland had it especially hard in all that time. First it was part of Austria-Hungary, then the Isonzo Front of ww1 destroyed the land, which was afterwards ruled by Italy. When the Fascists took over, they banned the Slovene language and ww2 brought even more suffering. Afterwards the cold war started and the land was torn in half by the iron curtain. Not only were the aleksandrinke separated from their families back home, the families themselves often became separated by barbed wire with relatives living on both sides. The new border between Italy and Yugoslavia didn't correspond with the ethnic border in many places, leaving some 100.000 Slovenes in Italy.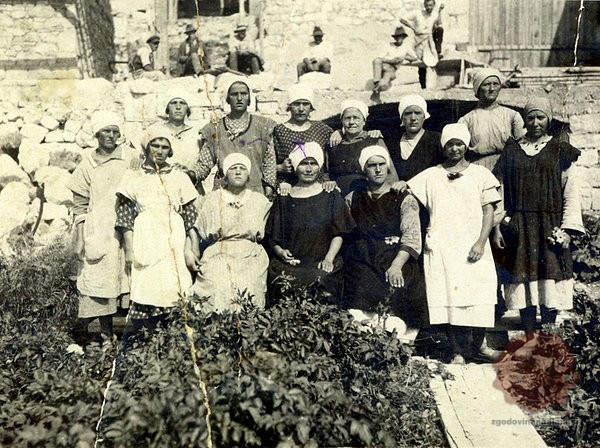 When the political climate in Egypt changed in the 50s, many foreign families moved from Egypt to the USA or Canada, Switzerland or Australia and many took their trusty Goriciens with them. The last of them returned home in the late 1960s and early 1970s. In an interesting twist, the years after ww2 brought an end to the aleksandrinke phenomenon, making Slovene women much less common in Egypt. Therefore many a Slovene man came to Egypt as a soldier in the 50s and 60s as part of the Yugoslav forces that were part of UNEF I. For a long time the history of les Goriciens was a taboo back at home, but nowadays it has grown almost into a myth.